NASA developed an amazing, revolutionary, and environmentally safe, multi-layered, reflective insulation product called eShield. eShield contains state-of-the-art emission blocking technology that makes it an energy saving and cost cutting product.
Traditional insulation is good for blocking the heat transfer types of convection and conduction, however, it is not effective for blocking the third type of heat transfer which is emission. This is where eShield stands out.
eShield has the absolute highest E-value rating in the industry. It is effective in blocking heat transfer from emission by 97%. Being a retrofit product, it can be installed right on top of existing insulation. This saves customers money by not requiring existing insulation to be removed. Plus, when eShield is combined with existing insulation, it makes for even greater energy savings.
Benefits of eShield
Lowers energy costs by up to 25%
High permeability rating of 13 – Will not mildew or cause moisture damage
Fire resistant
Allergen-free
Maintenance-free
More energy efficient than installing an additional 12 inches of fiberglass insulation
Want a Free Energy Audit?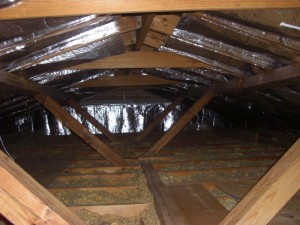 Most heat loss is lost through the roof. If you would like to see how energy efficient your home is, call us today and we will be happy to schedule you an appointment for a free energy audit.
During your energy audit, one of our professionals will inspect your home, determine the R-value needed for your home, measure your existing insulation, and then determine how much additional insulation you may need combined with the eShield.
If you are ready to start saving big bucks on your energy bill, contact us today on more information about having eShield installed in your home.